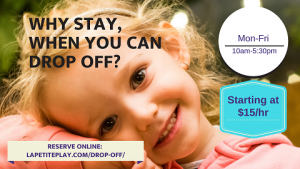 Need a safe, secure, and fun place to drop off your children so you can run errands or just have a little time to yourself? Well, now here you have it at La Petite Playhouse! Reserve your spot now. Space is limited!
$15/hr for Reservations
$17/hr for Drop-in
Child must be 100% potty trained
Must sign an additional waiver for every visit
Must be child's legal guardian or parent to drop off/pick up
Working cell phone to contact in case of emergency
Must notify staff in writing, of any allergies and any issues we should be aware of
For 3 or more hours, snack will be provided (Bottle of water, juice box and fruit snacks or gold fish cracker)
Email us at info@lapetiteplay.com to reserve your spot today.   Please indicate date and time of the drop off, number of kids in your email.
You can also prepay the drop off play here.  Please indicate date and time of the drop off in the check out screen